Powerful Processing
Our servers are powered by Intel E5 and AMD EPYC CPUs with up to 32 Cores for a lightening-fast processing. Each VPS has full access to allocated CPU core(s) with NO limits.

Pure SSD storage
We utilize Enterprise Samsung NVMe SSD storage on recently deployed systems. NVMe SSD Provides incredible I/O performance over SATA SSD.

High Availability
High availablilty, low latency and the best uptime in the industry with network redundancy and connectivity failover.

Free DDoS Mitigation
DDoS protection is a must. Every VPS comes with a basic mitigation between 5 and 40Gbps. An Enterprise mitigation option is available for up to 500Gbps and unlimited PPS.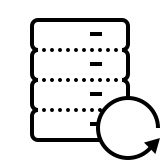 Automated Snapshots
Protect your data with automated full server backup. Automatically created server snapshot with various intervals and 1-click restoration for a small fee.

Fully Managed Servers
Add cPanel management plan to your server and let our cPanel certified team handle all server-related tasks including security hardening, server configuration and more.

Datacenter-Class Hardware
Servers built on the latest technology and most efficient datacenter-class hardware for the best performance and longer lifespan.

100% Uptime SLA
High availability is our top priority. We guarantee 100% Uptime SLA.

Private Network
Your servers hosted in the same datacenter location can communicate with each other over a private, secure, and fast network.

24/7 Premium Support
Fast and professional support powered by experts that are very keen on your success.

Wide range of OS
Choose from a wide range of Linux OS distros. You can reinstall OS from server management panel in a very simple way.

Money Back Guarantee
Your purchase is covered with 30-Day money back guarantee. 100% Satisfaction Guaranteed